1956-1969 The Middle Years
Assorted pictures from 1957-69
[Image Source – US Navy, except where indicated]
The Crew's Photos pages are listed in the menu to the right by year and title or contributor's name.
NOTE:  If you are using Internet Explorer 8 as a browser and you see oddly shaped thumbnail pictures on the pages that have the Piclens Slideshow viewer,  go to "tools" in IE8 and make sure that "compatibility view" is checked. The pages should then view correctly. 
Photos and publications  are always welcome and may be viewed by clicking on the appropriate page. Please contact me  by clicking HERE if you have anything you would like to make available for viewing.
Click on any photo to enlarge.
Here is a pic of the clothes washer we built in the Machine Shop. We built a crank shaft and attached it to the bulkhead behind the lathe. Attached drive end to back spindle of lathe. Had a trash can fitted with a hose to pump out water by using the lathe's coolant pump. We filled it with a hose from a water spigot. It worked great but you had to be careful that you set lathe on a low RPM. High speed would have clothes all over shop and did some wild destruction. Date of pic was around 1969.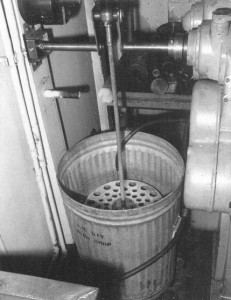 [Image & Story Source – Robert Wendling]
1966 – RF-8 Crusader of VFP-62 Det 42 damaged wing by North Vietnamese 5″ shell. It is a testament to the ruggedness of the RF-8 Crusader and skill of the pilot (Norm Green).
[Image Source – Jim Macino ]
[Image Source – A.W.Scarborough ]