1966-67 VietNam Cruise Video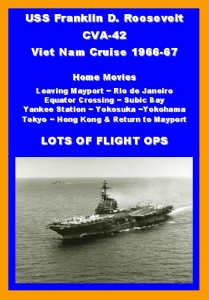 A short clip of the NEW single disc 145 min. Video DVD of the FDR's 1966-67 Viet Nam Cruise.
Now only ~ $19.95 with free Shipping and Handling (Domestic Only).
Includes Sound!
Contact me  HERE  if you are interested in purchasing a copy or just click the button below to buy now via PayPal or with a credit card. Your Shopping Cart will then appear with your item(s).
 Some Comments:
"The big "E". The video is outstanding, well recommended…thanks. Larry W."
"I was on the USS Roosevelt during the time this video was made. I purchased your video and received it directly and in good order. It was exactly as you described and more. It sure brought back many good memories for me, especially the equator crossing ceremonies. I had been searching for photographs of the old ship and the WestPac cruise with little luck until I discovered your video. Thank you so much for putting together such an important historical video, no doubt many old sailors of that era and their families will enjoy and very much appreciate this video as it is passed down as part of their family history. Every sailor aboard that ship can be proud of their service to our country and this video is a testament to their sacrifice and loyalty to our great country. Thanks again, Robert K."
" Thanks Larry, the FDR video is great! It brought back so many memories and I must have watched it 10 times so far. I liked it so much I told an old shipboard Navy buddy about it from Seattle, Wash. and he too purchased one. Thanks again..Jim S."
"Larry, this is a very good representation of what I saw everyday while we were on Yankee Station in 1966. Really brought back a lot of fond memories of shipboard life on an aircraft carrier. Thanks again for a great video. Mike B."