VF-11 F8U in Croatia
The following email was received from Croatia. If anybody remembers anything about it please contact the webmaster here.  I think it would make a great story for the ship's history. I have researched VF-11's records from 1958 thru 1967 and no mention is made of this incident however it seems it did happen.

Mystery Solved.  See below.
 Greetings,
My name iz Roko Gospić and I live in Zadar, Croatia.
I am a kind of an aircraft enthusiast and I would need as much as information about this picture I saw at your Forum site.
According to my knowledge this picture was taken in early 60s when an US navy F-8U-1 (tail code AB) (from CV-42 USS Roosevelt- VF-11 Red
Rippers) landed in AFB Zemunik, Croatia.
Pilot was lost and landed at nearest suitable airport for refueling.
I would kindly ask a Serial Number or the name of the Pilot if he is still alive, the destiny of the same airplane etc…
I am not familiar with the US NAVY code numbers so I would like to know more about it too.
Is there a better resolution photo of this same airplane?
I hope I do not ask too much? Any answer will help.
Kind regards
Click on photo to enlarge.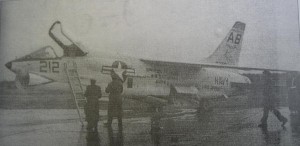 Thanks to Larry Rodd the mystery seems to be solved.
Message:
Adm Paul Gilcrest tells this story in his book, "Crusader – Last of
the Gunfighters" pp. 142-143: A young LT who he identifes as "Duke"
had a major electrical failure and lost all comm/nav/IFF and bingoed
from the carrier in the Tyrrehain Sea to the Italian AF Base at
Capodichino. He flew over solid overcase by dead reckoning,
overshooting his intended destination and ending up low fuel over an
airfield behind the iron curtain. He was wined and dined and sent home
the next day.